About Us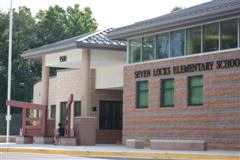 The Seven Locks Elementary School Educational Foundation is a non-profit 501(c)(3) corporation started by parents in 2012 to assist the school community where necessary to ensure that children can thrive in a first-class educational environment and support the quality of education at Seven Locks Elementary School (SLES).
The Foundation is run by an all-volunteer group that relies on contributions from parents and the neighboring community and is a non-profit 501(c)(3) corporation. Montgomery County Public Schools (MCPS) requires such an organization in order for the Seven Locks community to solicit funds from individuals, corporations, and other non-profit organizations.
How are we different from the PTA?
The PTA's mission is to build a sense of community among school families by sponsoring annual events, to educate through speakers and topical presentations at PTA meetings, to provide extra programming for students throughout the year and to support our teachers. The PTA is a member of the Maryland State PTA.
The Foundation's goal is to fund, possibly through long-range fundraising and planning, capital and technological improvements to the school building and grounds, promote academic achievement and extend the school's relationship with the wider community.
The Foundation is an independent, non-profit, all-volunteer 501c3 organization. The Foundation works closely with SLES as well as the SLES PTA. The Foundation is separate from the PTA, but the PTA supports its mission.
We abide by the school-related fundraising policy set forth by the Montgomery County Board of Education:  http://www.montgomeryschoolsmd.org/departments/policy/pdf/cnd.pdf
SLESEF provides funding for school programs & activities that would otherwise not be available to Seven Lock students.  Current projects underway include:
Support for professional development
Books and technology upgrades
 Additional materials for students that aid teaching of reading and mathematics.
Playground shade canopy, tables, and benches
Help build this new Foundation with your tax-deductible contribution and feel free to share your ideas for projects that will enhance the educational experience at Seven Locks Elementary School! Meeting minutes and financial statements are available for review upon request at the front office of the school.
Consider a donation today.  All donations are strictly voluntary and any amount is welcomed. You may donate with a credit card directly from this site. Consider an investment in your school community today.
 

Board Members
Rachael Datch— Director and President
Stanley Fricke— Director and Secretary
Colleen Hubeny — Director and Treasurer
Karen Levin –Director and Past-Treasurer
James Virga— SLES Principal and SLESEF Director
Ana Gabriela Filomeno — PTA Board Liason and SLESEF Director
Noelle Chadwick — Director
Beth Diamond — Director
Lisa Friedman — Director
Rayhana Hassani — Director
Frank Pigott – Director
Erika Schwartz — Director
Dorothy Chung — Website Administrator