The Seven Locks Elementary School Educational Foundation (SLESEF) was formed of entirely volunteer members to serve the needs of the school, the school community, and its students.
One of our goals is to identify and plan for meeting those needs.
In addition to projects that are ongoing (Canal Project, Educational Garden, Professional Development, Shade Canopy and Outdoor Activity Center, Books and Technology Funding Initiatives), some other projects that have been suggested include the following. Feel free to click on the suggestion box to give us your comments or ideas!
Playground enhancements, including possible lap sidewalk (exercise/walking path) around fields

Various tools and technology requested by teachers to support innovative teaching methods
Enhancements (benches, etc) at median strip at the front of the school between parking lots
Continued funding for technology center with 3D printer and video production equipment
Textbook upgrades
Possible fan for gym to improve spring/fall temperatures
Outdoor classroom, hardscape meeting area at unused grassy courtyard area to right rear of school
Your idea here!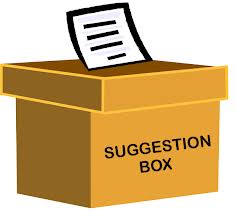 We welcome any and all suggestions or comments and would love to hear from you!  Click on the box above to send us a message.
What teachers have been saying about possible laptop carts
"Kindergarten would benefit from having access to laptops as a math station as well as a resource for our animal research projects."
"Laptops allow for students to meet the objectives needed for inquiry projects where they explore search engines for research, gather and record information and publish their knowledge"
Why do we need laptops? "Let me count the ways!!!" said the fourth-grade team.
"The most fervent need in fourth grade for additional laptops is to allow all students access to e-books and other student resources in a timely manner. For example, many of the lesson resources and guided reading books for students are only available electronically. "
"The fifth-grade team feels that having laptop carts readily available and easily accessible is an essential learning tool in the upper grades. It would undoubtedly lead to improved student engagement, the output of higher-quality written work, improved technology, and research skills, an increase in curriculum integration, and the ability to access curriculum-referenced e-books."