A look at Planting and Landscape Day, April 27th, 2013
A very grateful "THANK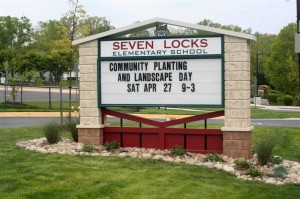 YOU" to all those who chose to spend a gorgeous Saturday, April 27th at our Community Planting and PTA-Sponsored Clean-Up Day!  We think the results speak for themselves. Scroll to the bottom of this page to see the dramatic before/after pictures!
The first part of the new Curriculum-Enhancing Interactive Conservation Garden was made possible by a Montgomery County RainScapes grant, the successful Spring Fling Auction, the PTA and generous donations to the Landscape Legacy Fund.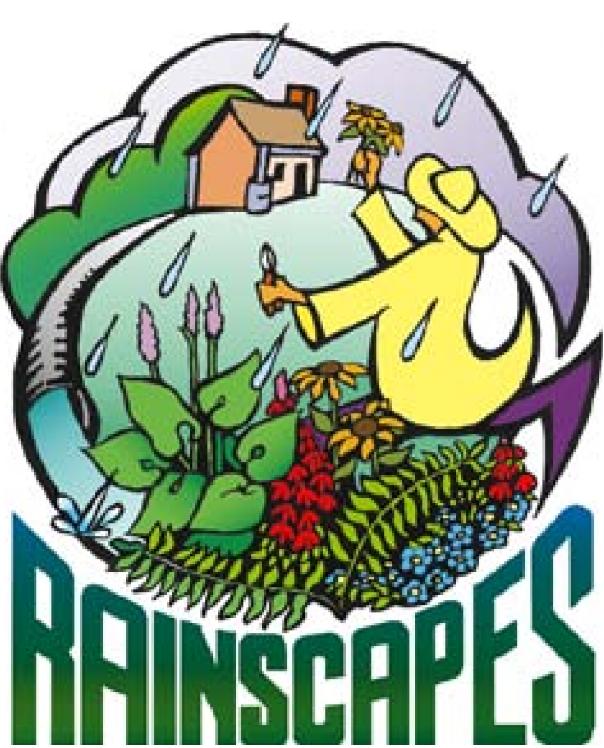 Dan Somers from Montgomery County  RainScapes taught students and parents great tips on installing plants and the benefits to the environment of planting a conservation garden filled with native plants.  Master Gardener Debbie Friedman of Bethesda Garden Design went above and beyond to create and help us implement a masterful and educational landscape design.
The new landscape not only fits with the C&O Canal theme of the school, but also provides an interactive and curriculum-enhancing addition that is sure to benefit Seven Locks students well into the future.  Thanks to Mr. Bencal for joining in the work and fun – and encouraging us not only to install the new landscape on each side of the school entry, but also provide related river rocks and plantings around the new school sign and large interior courtyard of the school.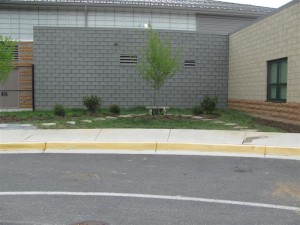 We are also enormously grateful to local businesses for choosing to support our Planting Day and Spring Clean-Up.  Those businesses include TriState Stone on Seven Locks Road, Giant Foods, Krispy Kreme Doughnuts, as well as Dominos Pizza.
Watch for our yearly "Adopt-Our-Garden-for-a-Week" plan for keeping ahead of weeds and watering needs in the garden.  We hope families will encourage student participation in the Adopt-Our-Garden Program as a way to encourage students' stewardship of the garden.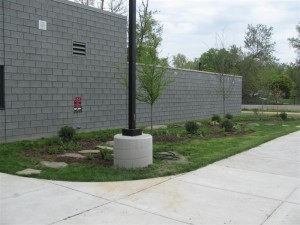 The plants in the garden were chosen not only for their beauty, but also for their educational value. Did you know that Monarch Butterflies look for young butterfly milkweed to lay their eggs?  
The landscaping so far is just part of Stage One of the Foundation's Landscape Legacy Project.  If you like what you see so far, consider a donation directly to the Landscape Legacy Fund.  Let's keep this project going!  Funds would provide for continued maintenance as well as teacher requests for particular plants of educational value.
Stage Two of the project might include landscaping between the two parking lots and around the front fence.  Special thanks to all those who have already contributed, including those who helped make the recent Spring Fling fundraiser a success.  Without your help, we could not have launched the Landscape Legacy Program at Seven Locks!